The most traditional working techniques
projecting modernity and inimitable style
Menchaca Studio
Menchaca Studio presents projects worked as a team, by sculptors, designers, painters and artisans in order to create a piece of art full of culture, which represents our Mexico, our towns, our people and above all our indigenous people.
Through various techniques that range from sketching and molding to the packaging of their works, they have developed an unprecedented process of collective artistic construction that results in unique pieces that today adorn stages and venues such as the Burj Khalifa in Dubai, Cirque du Solei in Montreal, the esplanade of the Palace of Fine Arts and Paseo de la Reforma Avenue in Mexico City.
MAGICMEXBCN is the only importer of this fascinating art in Spain.
Decoration & Furniture
Nowadays, glass work has diversified, opening up a world of artistic possibilities that allows us to offer multiple applications of this technique to interior decoration. Such diversification can be seen in murals, furniture of all kinds or mirrors that incorporate hand-painted tempered glass with resin-based techniques, configuring authentic works of art with a very contemporary accent. Thus, the artist manages the colored resins on the tempered glass, giving rise to abstract expressions with a particularly modern profile and suitable for enriching the most exclusive and sophisticated spaces with these original and unique pieces.
Blown glass and tempered glass
The blown glass technique dates back to the beginning of our era and is known in all latitudes. In Mexico, Jalisco is home to some of the most notable blown glass factories and workshops. There, experienced artists create the pieces by blowing air through a reed causing a kind of bubbles that, duly modeled with very basic tools, become different utensils, such as glasses, cups or jugs, or eye-catching decorative plates, all impressive thanks to the universe of colors and shapes that are handled.
Its creation process is truly spectacular, as are the achievements achieved, since the best craftsmen create pieces of exceptional vividness, absolutely incomparable, shaping this material when it is in a viscous state, having melted between 1,200 and 1,600 degrees Celsius.
Unique pieces that project their charm on the defects of the technique by which they are made, small variations in shapes or colors that show the artisanal process of their creation.
The use of recycled glass contributes to the development of an economic activity that respects the environment by reducing CO2 emissions in line with the energy savings achieved.
Alebrijes
Unlike other artistic manifestations that Magicmex is proud to present, Oaxacan Alebrijes are a fairly modern art form.
It is due to Pedro Linares López who devised, brought to life and named these fantastic creatures the fruit of his imagination in the 1930s. From that moment on, he gained recognition and prestige to the point that even Diego Rivera and Frida Kahlo commissioned him.
Certainly, alebrijes are magical daydreams covered in color and fantasy and, traditionally, they are shown as the fusion of several animals into one, when they do not consist of completely invented creatures. But, beyond these exquisite extravagances, alebrijes can be considered as a particular and inimitable way of reflecting the animal world. It is rarely so obvious that a work of art is unique.
Although papier-mâché can be used for its elaboration, those executed in wood are particularly valued, as are the majority of those we have at Magicmex. They work in copal wood, especially suitable for carving, so that the artist transforms the trunk of the tree into a figure whose surface will become smooth and uniform by applying sand. It will take weeks of work to go through different stages of each piece, such as drying, baking, sanding, coining, curing and sealing. Then, it is decorated by applying multiple colors in the most varied frets, created by the artist or taken from Zapotec motifs, using very fine brushes or punches in order to achieve a level of detail that is certainly unimaginable.
Copal wood, as well as the rest of the materials used in the elaboration of the pieces offered by MAGICMEX, is not affected by the commercial restrictions established for the protection of flora and fauna by the Washington Convention (1940). Regardless of their size, most alebrijes are characterized by being carved in one piece, which adds incalculable artistic value.
The popular saying says that having an alebrije at home brings good luck and happiness will accompany everyone who owns one of these works.
Huichol art
The Huicholes have been located, mainly, in the territories of the Mexican states of Nayarit and Jalisco for 2,000 years, in the Sierra Madre Occidental. Huichol art is a clear exponent of an artistic manifestation as old as the communities that still cultivate it today.
The Huicholes use their artistic creations to evoke their stories and their myths, rituals and beliefs, imbued with mysticism and tradition. Religious motifs, elements of nature and their culture, and even allusions to peyote, are part of the imagery that is reflected in the works of Huichol art focused on visual narrative.
Among these pieces stand out those that result from the use of chaquiras, tiny crystal beads or multi-colored beads with which all kinds of figures are endowed with vitality and magic: whales, turtles, iguanas, deer, horses and…, of course, jaguars!, a feline adored in different cultures for being a symbol of power and strength and that gives life to the MAGICMEX brand image.
Also extraordinarily noteworthy are the works made with yarns, colored wool threads glued with wax, giving rise to authentic creations resulting from a skill and thoroughness within the reach of very few artists.
The work of the Huichole artists reflects the Wixárika worldview towards which we at MAGICMEX express our deep respect and admiration. The manifestations of this form of artistic expression admit more sober color combinations that give rise to works of unexpected modernity.
Black clay
In certain areas of the state of Oaxaca we find the cradle of black clay figures, an ancient pottery technique whose creation process is much more complex than anyone could imagine, as is the case with all the artistic techniques that Mexico offers the world.
The spectrum of black clay figures is very wide. We can appreciate from vessels in various shapes and sizes to human or animal figures. They stand out decorative motifs that display such simplicity in their shapes that makes them completely adaptable to the most modern rooms that a designer can imagine.
The talent of these artists is capable of creating, using the traditional technique, pieces that overflow with modernity in their designs and shapes, thus adapting to varied demands and tastes.
To achieve quality clay, it is necessary to rid the soil of impurities through periods of soaking and sedimentation, so that the figure will then be kneaded and shaped, and then dried in the sun for several days, always avoiding the formation of stains. Designs, cuts or shapes can be introduced into the figures, although always with great care and skill, ensuring that the piece resists it. Finally, it is polished by hand with quartz crystal instruments and dried again in the sun. The process culminates with its introduction in a wood-fired oven at temperatures between 700 and 800 degrees for more than a day to give it its characteristic color, completely natural, so this process can take about a month and thus be able to appreciate the work of art that emerges from it completely finished and ready to give your space a unique touch.
Glazed pottery
Ancestral techniques, tradition and design.
Master artisans from Michoacán who for generations have found their livelihood in glazed pottery, but who also project a little of their culture to the world through this activity, embodying their talent and creativity in each piece through striking decorative works.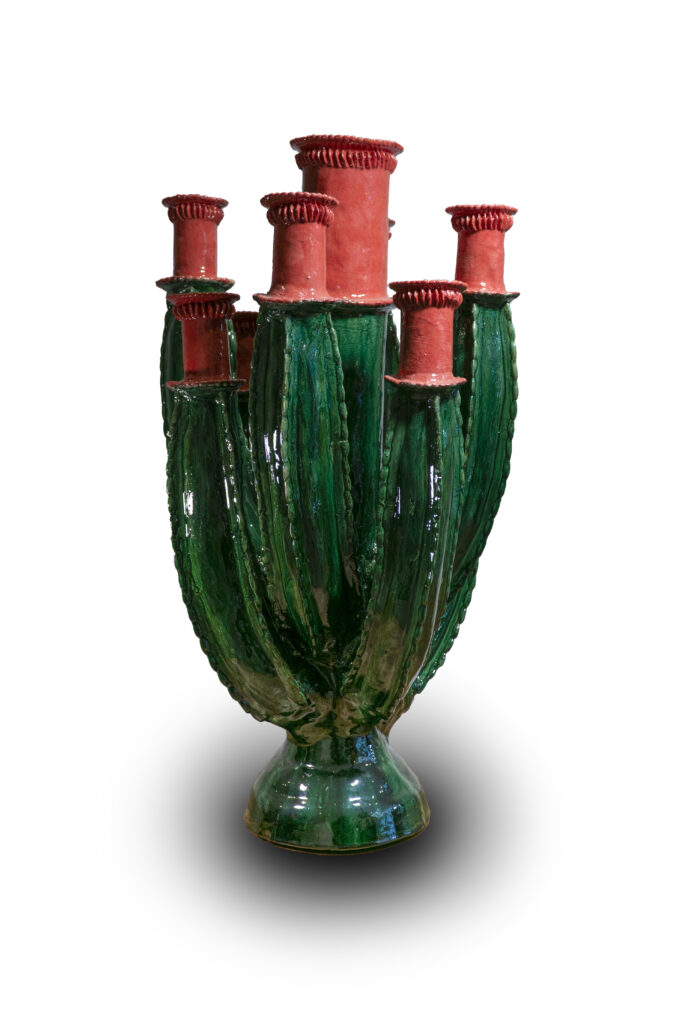 Like other expressions of Mexican folk art that you will find at Magicmex, the pineapples and glazed clay chandeliers made manually with traditional techniques project modernity, which makes them protagonists of sophisticated spaces, providing a unique touch in a contemporary atmosphere.
All this handmade magic in your home